Product Spotlight: HCT Brushless Fan Controllers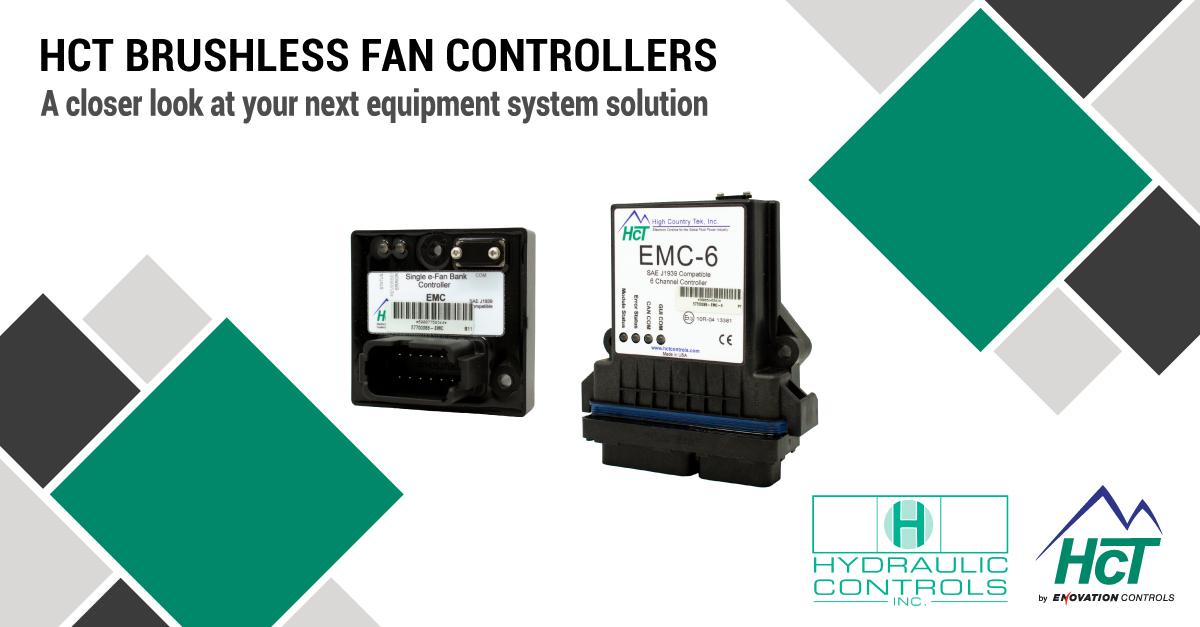 You may not be familiar with High Country Tek, but this Enovation Controls brand has been offering electronic fan and hydraulic controls for more than 20 years. HCT merged into Enovation Controls in 2017, and we continue to offer electronic fan and hydraulic control products under the HCT by Enovation Controls brand. Two products that remain popular among long-time HCT customers are the EMC and EMC-6 electronic fan controllers.
What are Fan Controllers and what problems do they solve?
Fan controllers enable seamless control over cooling systems on various types of engine-driven equipment where fuel efficiency, noise reduction and mounting flexibility are top priorities. For solving these frequent customer issues, fan controllers are commonly used alongside modular arrays of brushless DC fans on a variety of applications, but specifically as cooling systems for electronics engines on industrial, construction and agricultural equipment.
Fuel Efficiency: Brushless fans and fan controllers can reduce engine load which can maximize performance and reduce emissions
Noise Reduction: Intelligent fan controls can adjust to the needs of equipment, reducing unnecessary fan noise caused by excessive use.
Space Constraints/Remote Mounting: Heat exchangers do not need to be mounted in front of the engine and can be separated and mounted in remote locations.
Increase HP: Added HP can now be redirected to other operations. This is particularly important when decreasing engine size to meet Tier IV applications.
How do customers use them?
HCT Integrator Hydraulics Controls Inc. has used EMC fan controllers in their system solution on a Tier IV engine equipped tree shaker. This tree shaker had issues with the engine dying when it was tasked with shaking very large mature trees. Upon further evaluation, they found with the new smaller Tier IV engine, it didn't have quite enough horsepower available to handle larger trees.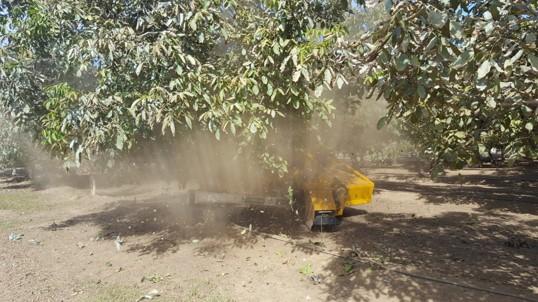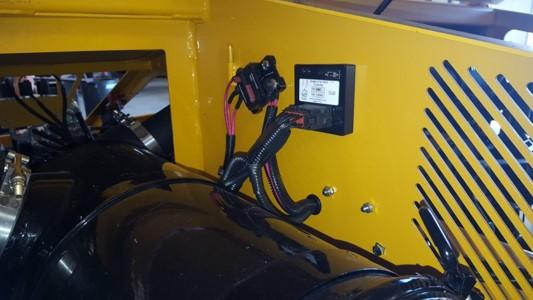 Pictured: Tier IV Engine Tree Shaker with Single e-Fan Bank Controller
The solution was to convert from a direct drive fan to a 3 variable speed brushless electric fans paired with an HCT brushless fan controller. The key advantages of switching from a single direct drive fan to brushless electric fans was to increase horsepower to allow the hydraulics to shake the larger trees.
"Once we took the machine out in the field and we got a little bit of extra power out of the machine, it shook those larger trees with no problem. So, we solved the main problem of increasing horsepower. Also, once we got it on the machine, we realized we had quite a few other benefits: increased fuel savings, a reduction in noise and a huge reduction of debris on the front radiator screen. Also, overall, there was less debris being sucked into the engine compartment."
Rob Hulse, Vice President of Hydraulic Controls, Inc.
The large reduction in debris being sucked through the radiator not only keeps the radiator clear for better air flow, but also reduces the amount of debris being accumulated inside the engine compartment, reducing maintenance. By integrating the brushless electric fans and HCT Controller, they were able to provide a system solution and exceeded customer expectations.
EMC and EMC-6 e-Fan Controllers
"There are a lot of capabilities with these very simple, yet very rugged electronic controls. The EMC and EMC-6 series are compact but powerful fan bank controllers designed for multiple variable speed brushless fans. The controller sends low PWM current to the brushless fan to provide speed and direction instructions. The great advantage of EMC and EMC-6 series controllers is the ability to control an entire bank of fans with a single controller. Diagnostic signals can also notify you if there is an issue with the fan."
Brandon Coursey, Enovation Controls Distribution Sales Manager
These controllers also transmit and receive standard and custom J1939 messages. EMC and EMC-6 controllers utilize a standard message format in addition to customizable messages for easy setup and installation. As an example, the EMC can convert temperature inputs into CAN messages and transmit to the engine control unit or a secondary EMC controller for diagnostics and system intelligence. The configuration software for the EMC products is also user friendly and can be configured from your laptop over USB.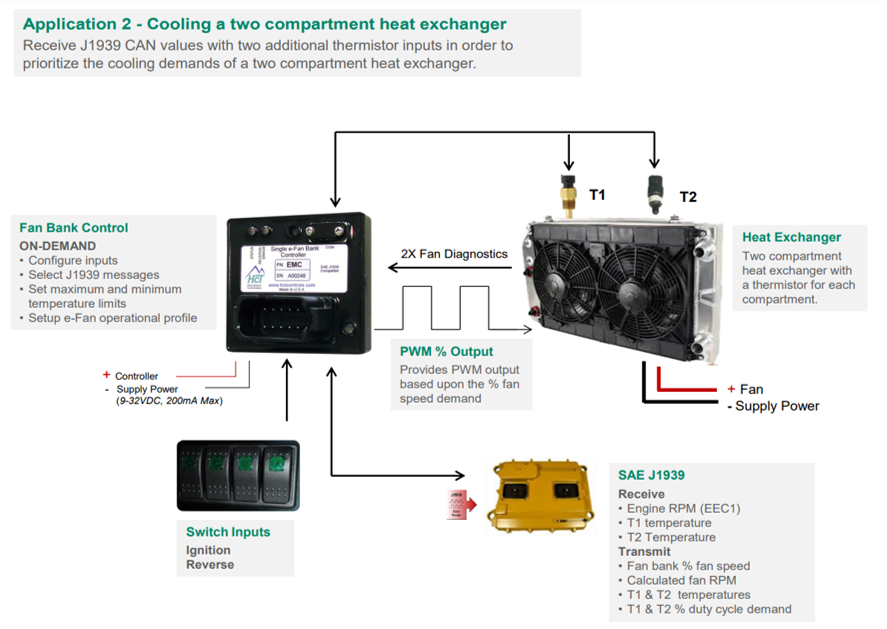 EMC Example: How it Works
---
Hydraulics Controls, Inc. is an authorized HCT distributor and integrator in the western United States with the technical expertise needed to help integrate brushless fan products and fan controllers.
For more information about HCI, visit: https://www.hydraulic-controls.com/
For more information about available HCT fan bank controllers, click here.