5 Must-Have Items for a Day at the Lake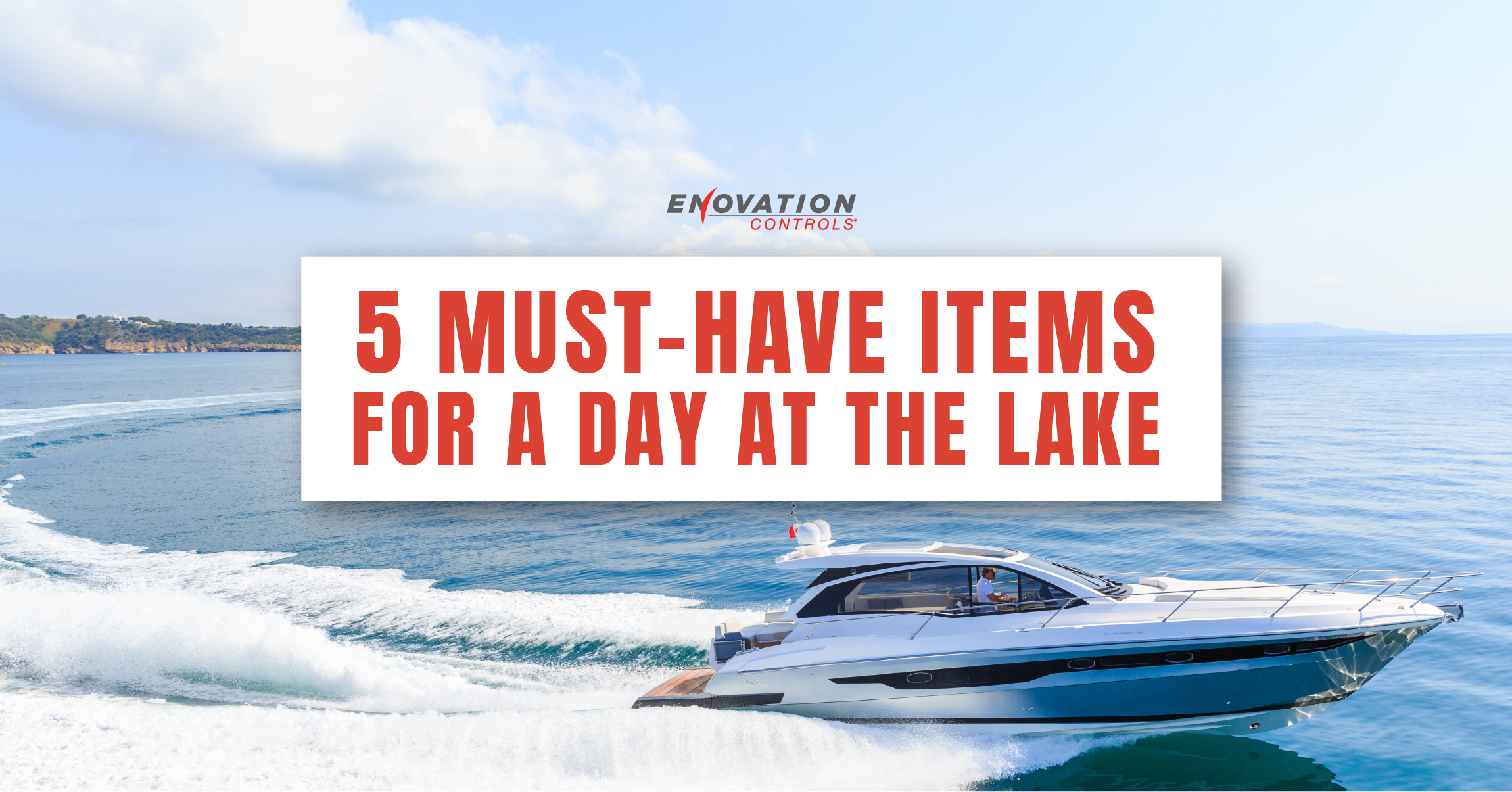 There's nothing like spending the day on a boat in the summertime. Whether you love the thrill of water skiing or relaxing under the sun, there's something for everyone to enjoy. If you plan ahead and pack the right gear, you won't have to stop the fun mid-day because of a forgotten item. But besides the obvious necessities like sunscreen, towels and life jackets, what else should you pack to make sure your lake day goes smoothly?
Our application experts at Enovation Controls assembled a list of their favorite lake day essentials. When you're packing your bags for a day on the lake, don't forget to include these must-have items.
Phone Charger
Snapping pictures of the scenery and shooting videos of your friends and family on the water will drain your phone's battery fast. Don't forget to grab your charging cord before heading out to the lake. If your boat doesn't have a USB port, or not enough ports for everyone to plug in, bring a portable charger that you can plug your phone into. (Don't forget to charge your charger ahead of time!)
Sunglasses Strap
Sunglasses are always a must-have when you're on the water, but when you hit a wave or fall off your tube or water skis, they're likely to fly off your face and sink into the lake. Keep your sunglasses on your head with a sunglasses strap such as Croakies®.
Koozies
No one likes sipping on lukewarm drinks, especially on a hot summer day. Keep your drinks cool by bringing along a few koozies. The condensation that forms on the outside of the can causes the drink to warm faster. Koozies prevent condensation from forming, so the can stays cooler for longer.
Food and Water
Speaking of drinks, make sure you pack plenty of water and snacks to keep you hydrated and energized. Stock your cooler with healthy snacking options such as fruit, pretzels, cheese, trail mix and granola bars to refuel after burning energy on the water, and bring premade sandwiches or wraps for a more filling meal at lunchtime.
Cleaning Supplies
After a fun day on the water, you're likely to find drink spills and snack wrappers scattered around the boat. Before you leave your boat for the night, take a few minutes to wipe up spills, and put wrappers and used bottles in a trash bag to throw away when you're back on land.
Bonus Tip: A good day on the water only gets better with the right tunes—pack a portable speaker or turn up the music onboard to really keep the boat rockin'. If internet access won't be available on the water, be sure to download your playlist ahead of time.
Enovation Controls' application experts know a thing or two because they ride and test our equipment on boats year-round. Whether it's a quick afternoon on the water or a weekend-long excursion, our display and control solutions have been designed and tested for marine applications to deliver a premium infotainment and ride experience that everyone will enjoy.
Click Here to Learn More about Displays for Recreational Boats and Watercraft