Maximize Your Investment with Murphy Ready to Run panel for MTU® Engines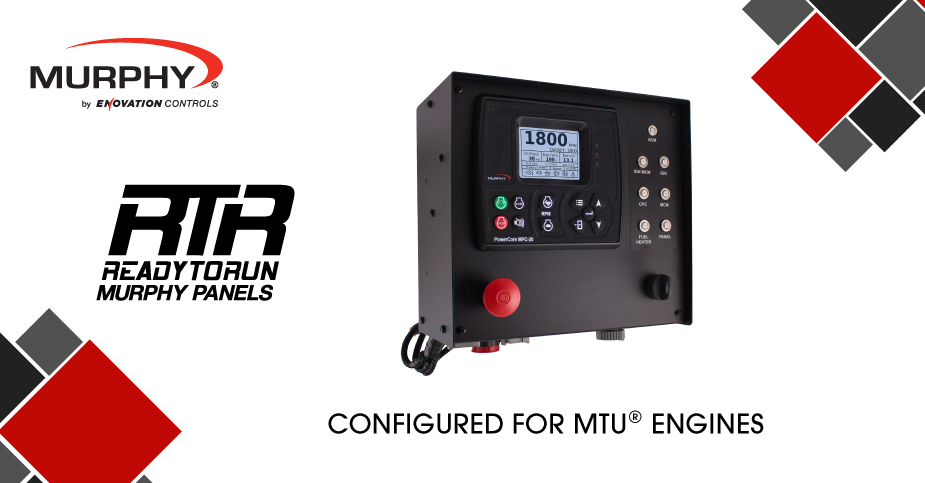 You've invested in your MTU engine—get the most out of it with customized solutions from Enovation Controls. The Murphy-brand Ready to Run panel for MTU® engines gives you full panel control for your engine while conveniently housing the CPC4 ECU. Murphy's RTR panel for MTU® engines includes a control box with mounted industrial controller, protected ECU mount and a specially fitted engine harness designed for MTU LPR Final Tier 4 Series 1000, 1100, 1300 and 1500 engines. All Ready to Run panels are ready right out of the box for quick installation and allow for several mounting configurations.
In the engine business, downtime is a dirty word. Murphy's plug-and-play RTR panels will get you up and running quickly with a complete package that saves you valuable time on the shop floor. Time is money, and with RTR, you won't waste time searching for parts to make a compromised solution at a higher cost than a plug-and-play RTR solution.
For MTU engines, Enovation Controls specially designed a version of the MurphyLink® 2000 panel with a mount inside for the CPC4 module to protect it from the elements and simplify your installation. The Final Tier 4-ready panel features full auto-start capabilities, I/O fully configurable from the front screen and can directly drive the air shutoff valve. Included harnessing also makes connecting an RTR panel to your MTU engine a breeze, fully equipped with circuit breakers so there is never a need to replace fuses, and no need for auxiliary power distribution panels like the competition.
Don't have an MTU engine? Murphy RTR panels for MTU engines are just a part of Enovation Controls' total panel offering. MurphyLink® series panels utilize the latest PowerCore® controller and PowerView® display technologies. These panels come in a variety of models with various levels of features and functionality for powerful control on the simplest mechanical engines or the most advanced, fully electronic Tier 4 engines. Pair a MurphyLink panel with Murphy Industrial Harnesses to simplify your engine connection with harnessing built to the specifications of each engine manufacturer and customer. Additional standard Ready to Run panels are also available for ISUZU® and Doosan® engines.
Save time, money and effort—it all adds up to Ready to Run as the perfect solution. To learn more about adding Murphy RTR panels to your engines, contact your Murphy by Enovation Controls sales representative.
Contact our Sales Team about Ready to Run Panels for Doosan Engines