Fortune and Great Place to Work® Name Enovation Controls One of the 2021 Best Workplaces in Manufacturing & Production™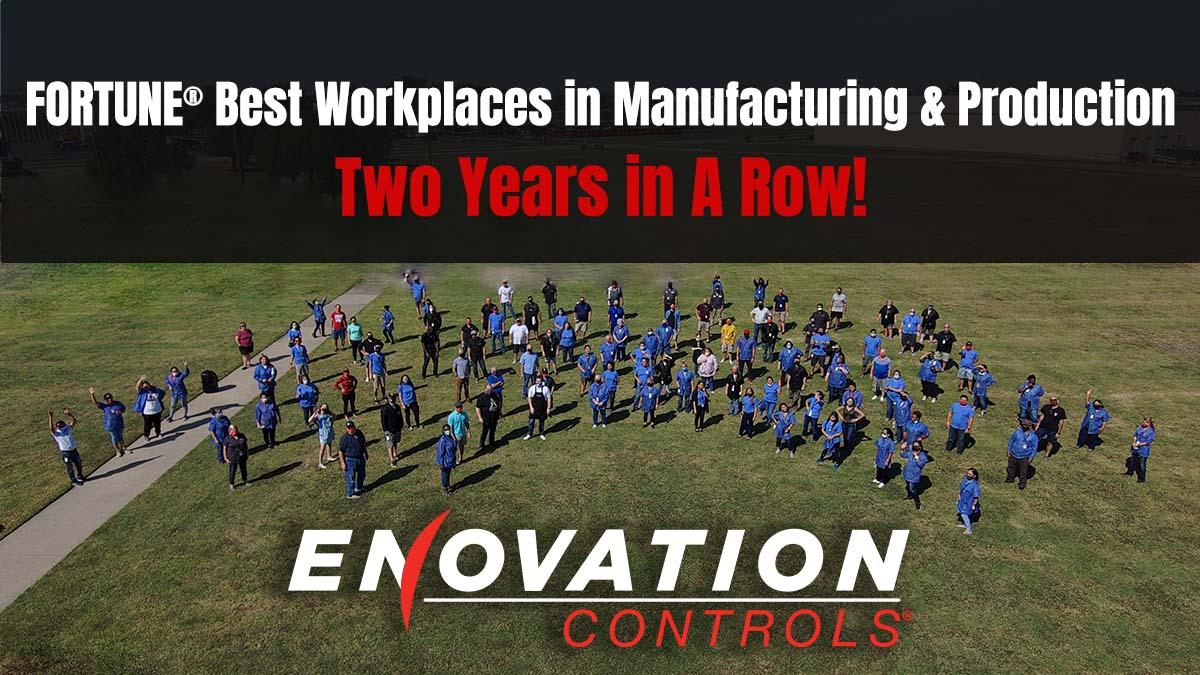 Tulsa, OK  – September 10, 2021 – Enovation Controls, a global leader in display and control solutions for engine-driven equipment and vehicles, has been named to FORTUNE Magazine's 2021 list of Best Workplaces in Manufacturing & Production. This marks Enovation Control's second time ranking on the annual list, signifying the overall quality and consistency of experience employees have across a number of job roles and backgrounds.
"We are thrilled to be recognized in this prestigious list and it is a testament to the culture we've created at Enovation Controls where every employee is empowered to enrich the lives of the people we work with, at home and in our communities," said Billy Aldridge, Senior Vice President and Managing Director at Enovation Controls. "We could not have achieved this honor again without the hard work and support of our employees, and I am very proud to see their efforts recognized."
The list is based on more than 220,000 employee surveys conducted by Great Place to Work, a global authority on workplace culture. The survey captures overall employee experience, including sentiment about growth and development, as well as company values, innovation and leader effectiveness. Enovation Controls took the number 6 spot in their 2021 rankings of small and medium-sized (less than 1,000 employees) manufacturing & production companies.
"The Best Workplaces in Manufacturing & Production have shown incredible care for their employees," says Michael C. Bush, CEO of Great Place to Work®. "In 2020 and beyond, these companies rewarded the hard and unrelenting work of their employees by creating a safe space for them to thrive in their careers and in their personal lives."
Earlier this year, Enovation Controls was recertified as a Great Place to Work® for the third year in a row. Using validated employee feedback gathered with Great Place to Work's rigorous, data-driven methodology, the certification confirms nine out of 10 employees have a consistently positive experience at Enovation Controls.
For more information on open roles at Enovation Controls, please visit the careers page.
---
About Enovation Controls
Enovation Controls is a fast growing and innovative manufacturer of electronic controls and displays for diverse markets. We are an international leader in fully-tailored solutions for engines, engine-driven equipment and specialty vehicles with a broad range of displays, controls and instrumentation products. With an internationally diverse team of over 300 employees, we serve customers around the world with global sales, manufacturing and engineering operations. Enovation Controls also partners directly with OEMs and supports a worldwide network of authorized distributors and system integrators. Visit us at www.enovationcontrols.com and follow us on LinkedIn, Facebook and Instagram.
About the Best Workplaces in Manufacturing & Production™
Great Place to Work® selected the Best Workplaces in Manufacturing & Production™ by gathering and analyzing confidential survey responses from more than 220,000 employees at Great Place to Work-Certified™ organizations. Company rankings are derived from 60 employee experience questions within the Great Place to Work Trust Index™ survey. Read the full methodology.
About Great Place to Work
Great Place to Work® is the global authority on workplace culture. Since 1992, they have surveyed more than 100 million employees worldwide and used those deep insights to define what makes a great workplace: trust. Their employee survey platform empowers leaders with the feedback, real-time reporting and insights they need to make data-driven people decisions. Everything they do is driven by the mission to build a better world by helping every organization become a great place to work For All™. Learn more at greatplacetowork.com and on LinkedIn, Twitter, Facebook and Instagram.