Join the Display Evolution with PowerView® 380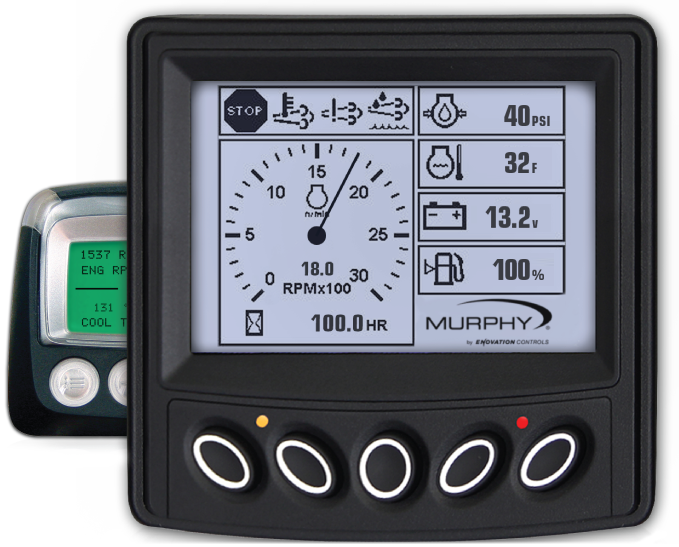 If you're still using a Murphy PowerView® 101 display, you might be wondering if it's time for an upgrade. The PV101 was originally released more than 11 years ago, and since your display requirements have probably changed since then we launched new displays to better serve modern needs. If you need more power, a bigger screen, a better way to monitor to your engine and more customization, the Murphy PowerView 380 from Enovation Controls is your solution.
With robust, multifunction control, the rugged PV380 is the perfect upgrade from a PV101 for improved usability and advanced engine monitoring. But what makes the PV380 better than the PV101?
"The PV380 has all the capabilities of the PV101 and more," said Adam Johnson, regional sales manager for Enovation Controls. "The customization of the PV380 allows operators to control their solution and provide more data to the end user at an economical price point."
Compared to the PV101, the PV380 provides a bigger screen with a significantly higher resolution to display more information clearly. The PV380 display also features five tactile buttons and the 3.8-inch QVGA monochrome LCD is easy to read in direct sunlight. The PV380 is customizable right out of the box you to set up your system using the screen and buttons without the need for a computer.
The PV380 can be used as a basic engine monitoring system or a machine controller with CAN and RS-485 (MODBUS) communications, 8 built-in inputs (7 more than the PV101) and 2 digital outputs. Capable of handling sophisticated engine diagnostics as well as basic engine alarm/shutdown, the display provides values and control for your system. The PV380 also includes Real Time Clock support and a greater operating temperature range than the PV101.
PV380 display owners can also take customization to another level with PowerVision Configuration Studio® software. This tool allows for quick creation of personalized user interfaces, custom parameters and specialized graphics for on-screen text, OEM branding and more.
Enovation Controls offers a variety of other Murphy products to pair with your PV380 and keep your operation running smooth. For electronic engines, you can choose from a suite of I/O devices to extend control across your system or application. For mechanical engines, Enovation Controls offers a wide selection of quality senders (fuel, oil, or temperature and magnetic pickups) that can easily work in conjunction to connect the PV380 to your system.
If you want the best for your engine, join the evolution and upgrade your display to a PowerView 380. To learn more about what the PV380 can do for you, please visit the PV380 page on our website or contact your Murphy by Enovation Controls sales representative.