Give Your Engine The VIP Treatment with MurphyLink® Panels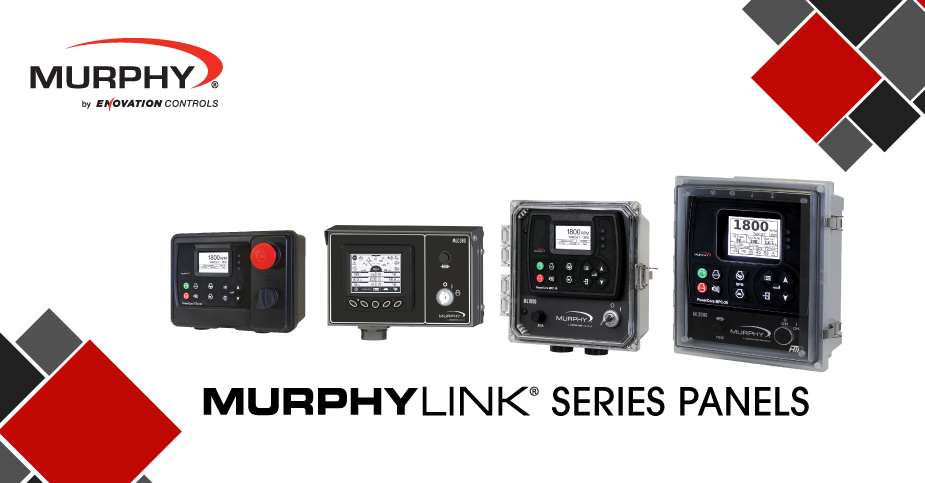 You may have heard about how easy it is to control your engine with Murphy's Ready-to-Run panels, but what if your engine isn't on the list? The MurphyLink® series of panels from Murphy by Enovation Controls provides OEM-grade solutions with VIP benefits compatible with a large variety of engines and engine manufacturers.
Your engine is an investment. MurphyLink panels don't just make controlling your engine easier, proactive protection can add to the life of your engine by minimizing costly downtime and service from preventable causes. MurphyLink panels can easily be configured from the panel for your engine and application in just a few minutes to provide years of benefit and save you time, money and effort.
MurphyLink panels and the free PowerVision for Controllers software tool are the ideal partners for fleet and rental equipment managers. PowerVision for Controllers goes one step deeper than what's possible on the panel, allowing you to easily choose your settings and export them to USB for programming multiple panels with identical settings, adding your logo to the startup screen and securing panel settings using three levels of passcode protection.
MurphyLink panels are available in a variety of models featuring varying levels of features and functionality to suit your application:
---
Designed for easy initial setup, the ML2000 panel can be configured to easily control applications with versatile requirements, allowing for more uptime and less headaches in your shop and in the field. This Tier 4/Stage IV-ready panel is an advanced auto-start solution featuring 15 inputs and 13 outputs. Additional shutdown options can be configured using the included I/O, and an optional I/O harness is available. The brain of the panel is the front-mounted PowerCore MPC-20 all-purpose industrial controller with a 3.8-inch monochrome LCD and an 11-button tactile silicone keypad. The ML2000 is available as a powder-coated cold rolled steel panel or in a NEMA Type 4X polycarbonate enclosure with a hinged door to provide protection from dust, water, ice and corrosion
---
The ML1000-4X panel incorporates all the power and functionality of the PowerCore MPC-10 controller in a panel solution for nearly any engine-driven application. Easy to use and built to withstand the harshest environments, the ML1000-4X provides built-in shutdown protection against common engine issues and customizable shutdown conditions for your application. This economical auto-start solution includes 9 inputs and 8 outputs built in with more configurable using an optional I/O harness. Everything is neatly packed into a compact NEMA Type 4X polycarbonate enclosure with a hinged door to provide protection from dust, water, ice and corrosion.
---
Engineered to provide power and performance, the MLC380 panel can be used across many applications. MLC380 panels are made using powder-coated sheet metal and include a front-mounted PowerView 380 display with 3.8-inch monochrome LCD and a 5-button tactile silicone keypad. This fully configurable panel includes 8 inputs and 2 outputs. MLC380 panels are available in separate electronic and mechanical versions with available mounting bracket, mechanical sender kit and harness accessories.
---
Last, but most certainly not least, is this honorable mention in the MurphyLink panel line up: the PowerCore TEC-10 turnkey electronic controller. While not technically a member of the MurphyLink family, this economical auto-start solution includes 9 inputs and 8 outputs for full control of your engine including auto-throttling and displaying engine parameters as well as critical faults from your engine or application. Built to endure tough industrial environments from full sun to wide temperature ranges, the panel is IP67-rated and well-sealed to protect against dust, water, ice and corrosion. The rugged TEC-10 panel has also been tested to withstand a high degree of vibration and can be mounted directly to your engine or application.
---
For many manufacturers, connecting a MurphyLink panel to your engine is as simple as plug-and-play. Just connect your MurphyLink panel to your engine using a Murphy Industrial Harness, and your engine data will start propagating to the display on start up. MIH harnesses are built to the specifications of each engine manufacturer and customer for a perfect connection every time.
Get the VIP treatment with MIH harnesses available for electronic engines from major manufacturers such as CAT®, Cummins®, Perkins® and more. MurphyLink panels offer flexible setup options and can also be configured with OEM harnessing from John Deere® or even with a mechanical engine using an I/O harness.
Powerful engines need powerful products. Give your application the best solution and choose the MurphyLink panel that's right for you. To learn more about adding ML panels to your engines, visit the panels section of our site or contact your Murphy by Enovation Controls sales representative.