Get Tier 4 Compliant with TEC-10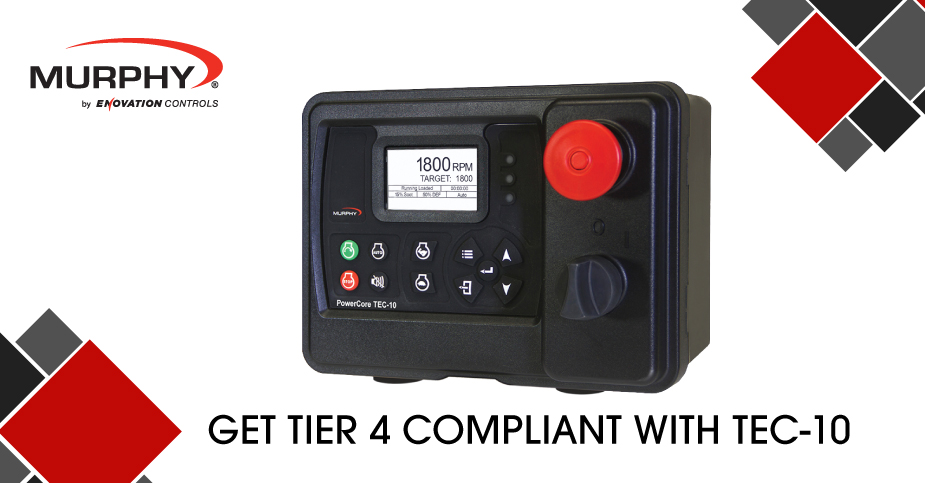 Emissions regulations are on the move again in North America. Stricter standards for the Canadian market, called Tier 4, were enacted in January 2012, but a gradual implementation of the standards gave OEMs until 2018 to meet the standard.
What is Tier 4? In Canada, Tier 4 is a new emission regulation for off-road diesel engines set forth by Environment Canada and is aligned with the regulation of the same name established by the United States Environmental Protection Agency (U.S. EPA). This regulation will reduce the amount of particulate matter exhausted by a diesel engine by 95%. Likewise, nitrogen oxides, otherwise known as NOx, will be reduced by 90%, and sulfur oxides will be virtually eliminated from the exhaust gasses.
To help OEMs across North America meet local Tier 4 requirements, Enovation Controls developed the Murphy PowerCore® TEC-10 rugged plug-and-play panel. The turnkey TEC-10 panel offers complete control with easy setup and installation. This plug-and-play solution is perfect for rental or industrial applications where I/O is needed, and auto-start or auto throttling is desired. Powerful flexibility allows the TEC-10 to be used across a wide range of applications while providing the operator consistency and familiarity.
"We're starting to see a lot of growth with this product," said Adam Johnson, regional sales manager for Enovation Controls. "The demand for the TEC-10 is rising rapidly, and customers are beginning to see the value in the functionality of this product."
The TEC-10 is a fully integrated solution. This incredibly versatile control panel allows parameters and settings to be changed directly from the panel's keypad or with a free PC configuration tool. Built-in multilanguage support (English, French, Spanish, German, or Italian) helps your operators do their job effectively in their native language. Powerful flexibility allows for the same control panel to be used across a wide range of applications while providing operator consistency and familiarity.
Housed in an IP67 case with no internal wiring makes the panel durable and robust. The TEC-10 features molded-in, industry-standard Deutsch HDP connectors and is compatible with the simplest mechanical engines and the most advanced, fully electronic Tier 4 engines. The rugged panel can be mounted directly to the engine or engine/application cover. Built to endure harsh environments from full sun to wide temperature ranges, the panel features a high degree of sealing for dust and water as well as the ability to withstand higher vibration with exposure.
The TEC-10 is user friendly and provides full control of your engine including auto start/stop, auto throttling and display of engine parameters along with critical faults from the engine/application. The TEC-10 supports SAE J1939 CAN protocols for electronically governed engines as well as analog sensors on mechanical engines for fault and safety warnings/shutdowns.
Meeting emissions standards isn't always easy, but with the TEC-10 it can be. To learn more about how the Murphy TEC-10 can work for you, visit our TEC-10 page or contact your Murphy by Enovation Controls sales representative.