Enovation Controls Reveals New ACE Software Tool for Quicker Machine Control Development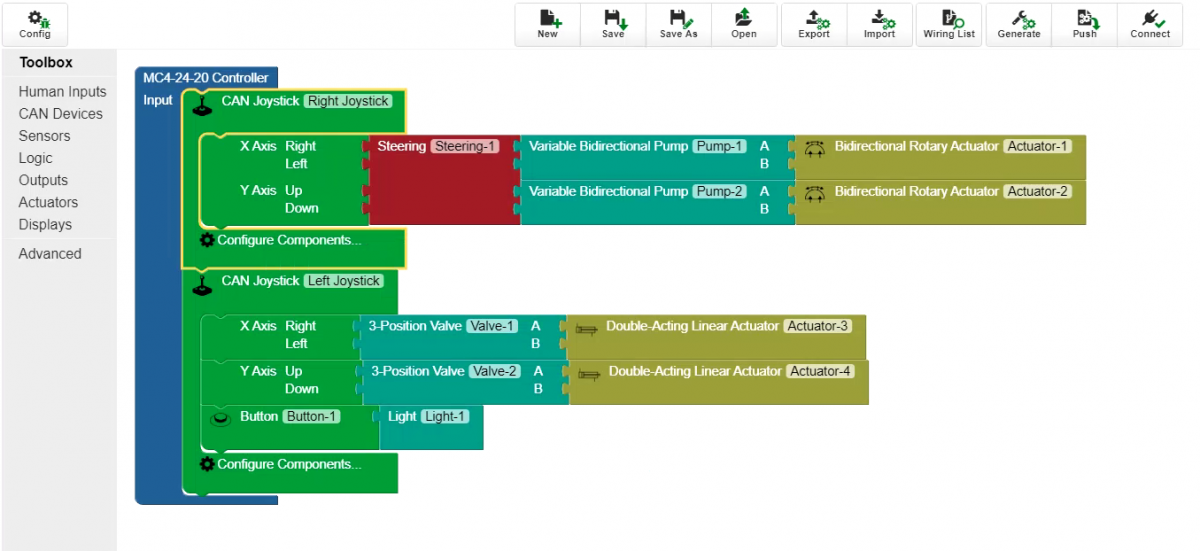 Enovation Controls, an international industry leader in electronic displays and controls for engines and engine-driven equipment, unveiled ACE™, its latest software platform for configuring machine controllers and accompanying displays. Designed for system experts with little to no software coding experience, ACE helps users create full-featured machine control and display applications efficiently. Using drag-and-drop blocks, users visually compose a system from built-in function, device, and logic blocks. Easy-to-learn and quick to use, ACE helps users rapidly build system solutions of all kinds without sacrificing control horsepower that traditional software development environments bring to the table. ACE also removes common hurdles faced by experienced developers allowing them to grow their resources and complete projects quicker. Designed for Enovation Controls' line of uControl™ mobile machine controllers, ACE brings together the entire control system and intelligently integrates displays, power distribution modules, valves, actuators, joysticks and engine data for robust and exceptional control.

"Together, ACE and our controllers are the ultimate pair. The game-changing speed and accuracy that ACE brings to control system development combined with the robust, highly-configurable hardware of Enovation Controls machine controllers are unlocking a whole new world of possibilities for our customers," said Chris Cole, Director of Mobile Controls.
"ACE makes bootstrapping the application and I/O provisioning effortless, allowing experienced integrators more time to focus on the control logic and machine performance. Tedious CAN communication setup, such as between controller and display, is done automatically, meaning you can get a machine and display functioning in record time," said Allison Shaw, Mobile Controls Software Engineer.
Additional features and benefits of ACE:
Live Mode allows for on-equipment tuning and calibrating
Built-in library of CAN J1939 engine parameters
Growing database of pre-configured parts, including Sun Hydraulics® valves, Murphy® PowerView displays and many other components
Configure and save commonly used components in a local parts library
Instantly scale projects between controllers
Generate automated wiring lists exportable to PDF and Excel-compatible formats