8 Things to Pack for Your Next Winter UTV Trip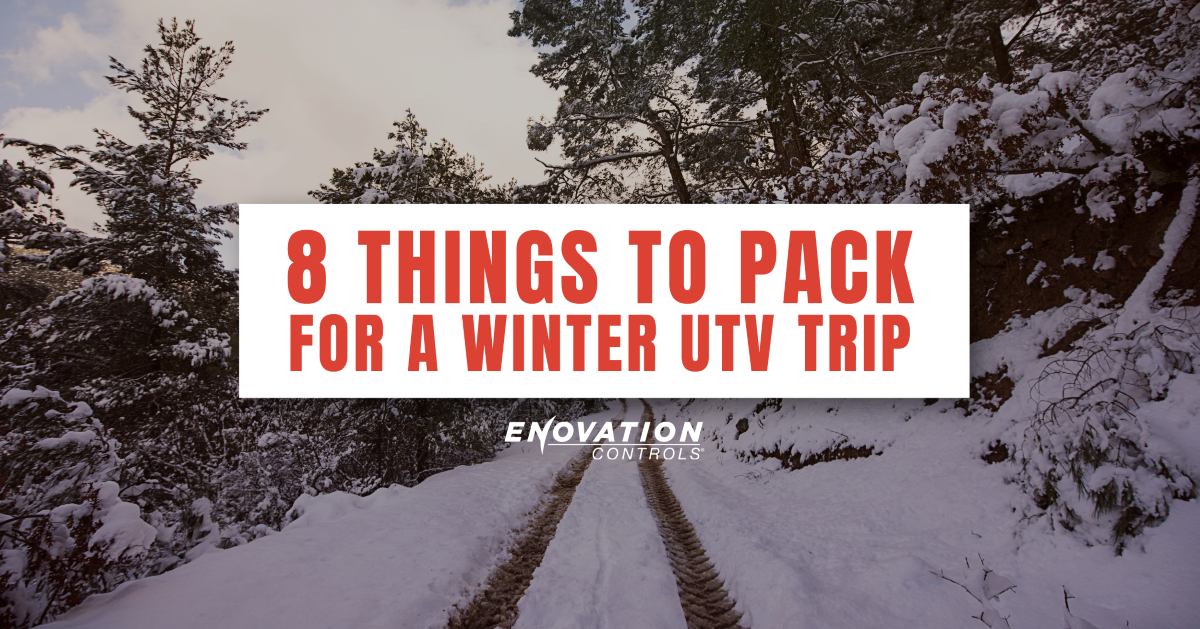 A UTV trip is a great way to experience the outdoors, whether it's a quick weekend trip with friends, or a large riding event like the annual Big Meat Run in Disney, Oklahoma. But when the temperatures drop and winter weather moves in, what you choose to bring is crucial. Wherever your winter excursion takes you, packing the right gear can mean the difference between a fun adventure or a miserable day.
Our application experts at Enovation Controls assembled a list of their favorite UTV weekend essentials, so when you're getting ready for your next winter trip, don't forget to pack these items.
Warm Clothing
Packing warm clothes may be the obvious first thought, but making the right clothing choices for your winter ride will make a world of difference. Make sure you've got long-sleeved riding shirts, a warm riding jacket and protective pants. Waterproof boots that can protect the ankle are the best choice for footwear—a snowmobile-type boot paired with thick socks will keep your feet warm and dry while out in the elements. Don't forget winter gloves. If they're not already waterproof, make sure to treat them with waterproof spray a day or two before use.
Protective Head Gear
Safety is most important, so always wear a riding helmet with goggles when on a UTV. If you prefer, you can also use a closed-style adventure helmet. To keep your face warm and protected from wind burns, wear a balaclava or a half face mask like a neck gaitor.
Protein Bars
No one likes to be hungry when out on a ride. Our experts say you should always pack a few protein bars in case you're not able to return to base station right away. They're a great snack to keep you satisfied until you can get a full meal.
Cooler and Water
It's a good idea to always pack a case of water for your trip—nothing is worse thank getting lost or stranded without any water. Pack the case in a small cooler secured with tie-down straps.
PRO TIP: Keep a frozen gallon of water inside your cooler. It stays cold longer than ice, and it won't get food or snacks wet.
Toilet Paper
You never know when you'll need it. Store a couple rolls in large resealable plastic storage bags—they may get flattened, but they won't get wet. Throw in a small bag of baby wipes too.
First Aid Kit
Anything can happen on an off-road UTV trip. Don't forget to pack a small first aid kit to treat minor cuts and scrapes while you're out, or secure more serious injuries until you can reach help.
Knife and Tools
Nobody wants to get stranded, so expect the unexpected and plan ahead for when your adventure gets off track. Whether it's getting unstuck, fixing a flat tire, or just tightening some loose bolts, don't forget a set of trail tools. Even better, have a separate set of tools just for your UTV. Other accessories such as a shovel or tow strap can make all the difference between a fun story and a disappointing day.
Fire Extinguisher
In case of severe accidents, make sure you bring at least one fire extinguisher to keep you and your riding team safe.
Enovation Controls' application experts ride and test UTVs year-round in all weather conditions because our solutions are built for all weather conditions. No matter how much dirt, water or snow you throw at them, our solutions deliver a premium infotainment and ride experience every model year. Designed, tested and built for OEMs of all shapes and sizes, Enovation Controls has unique system solutions for you.
Learn more about PowerView Displays